Commercial Lighting
You've made it. You've found the Commerical Electricians that can help you and your company save big money each and every month on your lighting utility overpayments!
More companies choose us for lighting upgrades and lighting maintenance in Southern California… Orange County, Los Angeles County, San Bernardino County and Riverside County.
Lighting Upgrades & Energy Savings
Empire Electric electricians are the lighting experts that can save you money on your lighting bills. It is time that you and your company take advantage of the changing in technology and take advantage of the electrical rebates that are available. Let us let you maximize your savings and turn your lighting into a positive financial investment.
Make the Switch to Energy Efficient Electricity Lighting
Everyday more businesses are switching to energy saving lighting to help trim operating costs allowing the savings to fuel company infrastructure. Making the smart decision now to upgrade and retrofit older, troublesome and energy robbing lighting fixtures can help tomorrows budget become more manageable. Making the switch now not only increases your company's profitability, but helps save the environment from the problems associated with electrical generation. Your company's energy future on our country's energy future are tied hand in hand.
It Can Be Challenging
It can be challenging to discover the right steps towards great energy management, but the first true step is making a single phone to Empire Electric at 1.877.247.6426 allowing us to help you in your journey to energy responsibility and profitability. Let Empire Electric help.  Call us today and find out how we can help you increase profitability and energy efficiency!
Should You Invest in a New Energy Efficient Lighting System?
How much is the initial lighting investment going to entail?
How much energy savings is there going to be?
What are the direct short-term financial benefits of retrofitting lighting?
What are the direct long-term financial benefits of retrofitting lighting?
Is commercial lighting retrofitting going to enhance the building value?
Is commercial lighting upgrades going to increase worker productivity?
Is the commercial lighting upgrade going to decrease light maintenance expenses?
Are there rebates for energy efficiency lighting upgrades for commercial buildings?
Are pollution reduction and "going green" priorities for your company?
Contact Empire Electric today and ask about our commercial lighting upgrade and retrofit services. Making decisions easy is what we do. We will help you make the right choices today. Call now at 1.877.247.6426. Choosing the changes that are right for you is a big decision and we want to be here to assist you.
Halide Lighting Should Be Replaced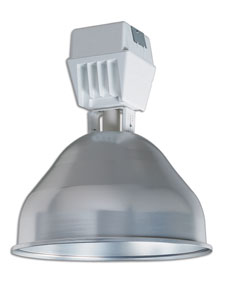 High Bay Fluorescent Lighting Saves Energy
Existing Lighting
New Lighting
Input Watts Per Fixture
458
222 watts
Hours of Lighting Operation Per Year
3600
3600
Energy Consumption (watt hour)
divide by 1000 to get (kwh) Kilowatt Hours
1649kWh
799kWh
Energy Savings Per Year (kwh)
0
850kWh
Electric Utility Cost Per Kilowatt Hour*
$.14
$.14
Energy Savings Per Year per Light Fixture
0
$111.86
Number of Fixtures Retrofitted
50
50
Total Energy Savings per Year
$5,593.00
*The maximum current tiered rate for commercial electricity is now 0.35 per kilowatt hour. The more electricity that you use, the more that you have to pay for it. In this example, at the maximum rate, your electrical savings would skyrocket to $14,875.
Using this simple formula you can count out the number of high bay fixtures in your warehouse and simply multiply that number by $111.86 and come very close to your annual electrical savings from an electrical lighting retrofit.
It isn't rocket science to discover that old lighting fixtures are costing your company a fortune to operate. Give us a call and let introduce your budget to some lighting relief today.We here at the Empire Family of Services offer the finest commercial lighting service and repair in Southern California. With our highly trained electricians and our friendly office staff we strive to ensure that your lighting upgrade and repair experience is a fast and painless one.
Our primary focus is your convenience and safety. With two hour service windows 6 days a week, no overtime ever, we can meet you at your home at the appointed time for your commercial lighting and industrial lighting. We will meet your time table for your lighting repair and lighting installation service, guaranteed.
Call Today for Fast, Friendly, On Time, Under Budget Lighting Service 1-877-247-6426