Commercial Lighting Retrofitting
More Companies Choose us for Warehouse Lighting Retrofits and Office Lighting Retrofits in Orange County, Los Angeles County, San Bernardino County and Riverside County.
You should pay attention to the latest innovations in the lighting industry. They are a big deal! Let's trim your office lighting and cooling bills. Let's lower the amount you are spending maintenance each year and while doing so, let's go ahead and increase the quality of your lighting.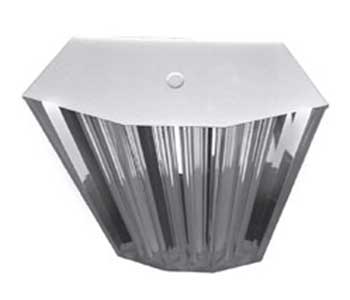 We'll make your warehouse a brighter and your offices a little lighter. We can move your facility away from the old inefficient metal halides to T5 or T8 Hi Bay fixtures, we can help. We specialize in using the latest technology to make your facility energy efficient, and certain facilities can upgrade without having to completely replace their fixtures. Nearly all fluorescent fixtures have retrofit options that increase light levels and reduce wattage by as much as up to 70%! (The fixture the the left is a high bay T5 fixture designed to replace old outdated warehouse lights)
Less Than 1 Year PayBack
It is true. The majority of lighting system retrofits enjoy less than a single year payback from the lowering of the electrical bills. Once the electrical usage starts to decrease the savings magnify by allowing your electrical bill to fall into lower and lower billing tier levels. This reduces the amount you pay for electricity in addition to lowering the quantity of electricity your business is using. It can be very significant. (The picture to the lower right is an antiquated mercury halide lighting system for high bay warehouses. We can reduce the amount of electricity your warehouse uses by 1/2 or more.)
Should You Invest in a New Energy Efficient Lighting System?
Are you tired of paying high electrical bills each month?
Can the money you are wasting in electrical be allocated to another use?
Are your maintenance costs, bulb replacement, high and too often?
Is your office environment dingy and yellowed with poor lighting?
Are your light fixtures various colors from poor maintenance?
Will new bright happy lighting increase the mood of your employees?
Does your office look like it was built in 1970's.
Contact Empire Electric today and ask about our commercial lighting upgrade and retrofit services. Making decisions easy is what we do. We will help you make the right choices today. Call now at 1.877.247.6426. Choosing the changes that are right for you is a big decision and we want to be here to assist you.
Lighting Retrofits Offer the Following Benefits:
• Energy Savings
Lighting retrofits can greatly reduce energy consumption and lower energy bills, while maintaining lighting levels and quality by upgrading lighting components to more efficient and advanced technologies. Upgrading technologies can also offer employees greater control over lighting, allowing for additional energy savings.
• Improved Lighting Quality
Lighting retrofits can improve lighting quality by targeting problem areas with specific design considerations to overcome common lighting issues. Newer technologies also add increased reliability to the lighting system, so fewer short-term lighting-quality issues should arise. These newer technologies often have better lighting-quality characteristics, such as improved color, reduced flicker, greater light output, etc.
• Reduced Maintenance and Labor Costs
Improvements in lighting technologies have led to increased lifetimes for components that will result in fewer failures and lengthen the time between maintenance activities. The implementation of a routine maintenance program in addition to your lighting retrofit will greatly simplify your maintenance practices and reduce the operational costs associated with maintaining your lighting systems.
• Pollution Reduction
By consuming less electricity, your facility will help reduce the demand and associated emissions from "off-site" power generation. These harmful emissions include CO2 and other greenhouse gases.
• Green Power Systems
For those facilities served by photovoltaic or other green-power systems, efficient lighting will help limit power demands. Using more efficient lighting will require less power to be generated, stored, and used to accomplish the same tasks, making alternative power systems more economically and technically feasible.
Let Do The Math For Energy Savings
Existing Lighting
New Lighting
Input Watts Per Fixture
458
222 watts
Hours of Lighting Operation Per Year
3600
3600
Energy Consumption (watt hour)
divide by 1000 to get (kwh) Kilowatt Hours
1649kWh
799kWh
Energy Savings Per Year (kwh)
0
850kWh
Electric Utility Cost Per Kilowatt Hour*
$.14
$.14
Energy Savings Per Year per Light Fixture
0
$111.86
Number of Fixtures Retrofitted
50
50
Total Energy Savings per Year
$5,593.00
*The maximum current tiered rate for commercial electricity is now 0.35 per kilowatt hour. The more electricity that you use, the more that you have to pay for it. In this example, at the maximum rate, your electrical savings would skyrocket to $14,875.
Using this simple formula you can count out the number of high bay fixtures in your warehouse and simply multiply that number by $111.86 and come very close to your annual electrical savings from an electrical lighting retrofit.
It isn't rocket science to discover that old lighting fixtures are costing your company a fortune to operate. Give us a call and let introduce your budget to some lighting relief today.We here at the Empire Family of Services offer the finest commercial lighting service and repair in Southern California. With our highly trained electricians and our friendly office staff we strive to ensure that your lighting upgrade and repair experience is a fast and painless one.
Our primary focus is your convenience and safety. With two hour service windows 6 days a week, no overtime ever, we can meet you at your home at the appointed time for your commercial lighting and industrial lighting. We will meet your time table for your lighting repair and lighting installation service, guaranteed.
Call Today for Fast, Friendly, On Time, Under Budget Lighting Service 1-877-247-6426